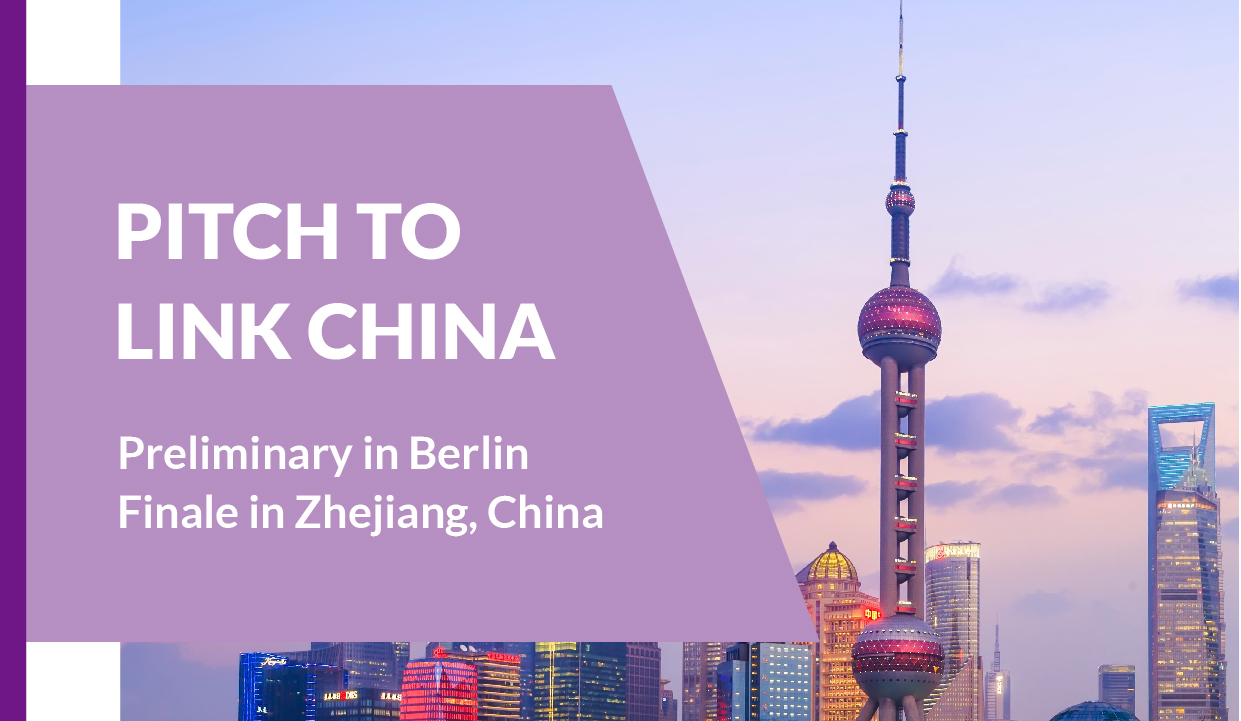 Access the joint programs and resources of Chinese counterparts to – understand China and for your start up success!
Pitch to Link China is an innovation competition held in Europe for research projects and start ups who seek to engage in innovative research, technology transfer and entrepreneurship in China. The competition offers not only a platform to exchange ideas, but also provides a gateway and access to gain insight into Chinese business policies, funds, industries, and market by connecting you with comprehensive resources such as customers, investors, potential partners and executives from Chinese counterparts. Will you be one of them?
Contest Timeline
Application deadline: July 10, 2022
Preliminary in Berlin-Adlershof (or online): 10 July – September 15, 2022
Finale in Zhejiang, China (or online): after October 15, 2022 (TBC)
Why is it worth participating in the competition?
Participating in Pitch to link China opens up many opportunities for you!
You will learn about how your team might be supported. 
You will learn about the largest market and obtain the opportunity to win the ticket to China. 
You will get to know the other participants and experts of our widespread network. 
Winners of the first round (TOP 10) will present their project in the preliminary in Berlin (or online depending on the latest COVID-19 regulations).
Participants will have chance to win the tickets to China for a free delegation trip. 
Participants in the finale have chances to access start-up grants up to € 600,000.
Opportunity to obtain rent-free working space in our center in Berlin-Adlershof for 3 to 12 months.
Participants are welcome to attend our mentoring, workshops and pitch events.
Conditions of participation
Any research-based products or scalable business ideas from start-ups may be submitted.
The projects may be from the following cluster or any other innovative fields: semiconductor whole chain, precision manufacturing, health medicine, digital economy, fashion industry, modern service industry, quality agriculture, etc.
Teams having universities or institutions background may participate.
You want to get to know the potentials of the Chinese market.
Application
Apply on the website  https://www.berlin-technology-center.de/pitch-to-link-china-2022/, or contact info.btc@tsinghuadelta.com.
Submission
A complete application form and a concept paper of a research-based product or business ideas must be submitted. You find the registration form and muster of the concept paper here.
For the first round, all concept papers with fully completed application forms received until 10th of July 2022 will be considered.
Submissions with incomplete documents will not be considered.
Any questions regarding to the application form or concept paper could contact: info.btc@tsinghuadelta.com, subject "questions in application in Pitch2LinkChina".
Download Registration papers